Teeth Whitening in Kennebunk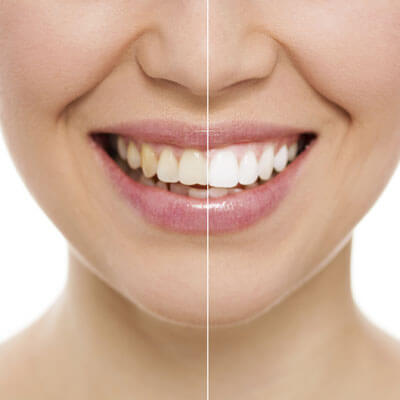 Did you know that teeth whitening is the most requested cosmetic dentistry procedure today? You can get a stunning, brighter smile with no downtime. It's that simple!
At Starboard Dental, we offer at-home whitening, in addition to an in-office procedure with the KöR® Whitening System. The take-home version comes with bleaching trays. There's a day version and a night one too—most recommended! Results are usually seen in just two weeks when used as directed.
What to Expect
Our in-office teeth brightening process actually begins with an at-home two-week conditioning process. This helps open up the pores and enamel to receive the bleach more effectively when you come for the in-office procedure.
NEW Patients »

When you visit us for your appointment, please allow about two hours for the bleach to work. A staff member will sit with you while you relax during the process. Results vary based on the patient's anatomy, and also their compliance with the whitening regimen. Avoiding staining foods during the whitening procedure will significantly impact your results.
Afterwards, you should see pretty immediate results, and you can continue to bleach at home or return for more in-office visits if you would like more brightening.
Frequently Asked Questions
What bleaching system do you use?
We use Advanced Whitening with the KöR® Whitening System.
What's the benefit vs. other brightening systems?
KöR is widely recognized as the world's most effective whitening system—with no need for lights or lasers. It's a cost-effective solution for all types of smile brightening needs.
When it comes to teeth brightening (bleaching), it's always best to begin in our practice. We can advise whether you're a good candidate for this process. Those with yellowish teeth typically have better results than those with brownish or grayish hues. Also, whiteners have no effect on tooth-colored composite fillings or teeth that are bonded, so whitening will only make these teeth stand out from the ones that do whiten.
Are in-office procedures better than the at-home process?
Our whitening process at the practice takes some time, but the results are immediate. After ensuring the gums are protected, a bleaching agent is applied to the teeth, and it does all the work!
Our office also dispenses take-home kits with a custom-made mouthpiece. These gels are generally used for two weeks to obtain the desired results. You can also perform at-home touch-ups to maintain your results.
Some people experience tooth sensitivity after using bleaching agents. This is usually temporary and goes away after completion of the whitening process. Others notice irritation of their gums—especially when the bleaching tray is not custom-made and the gums come in contact with the bleaching agent.
Side effects should always be brought to our attention to determine whether they are typical or not.
Make Your Appointment Today
Schedule an appointment with Starboard Dental and let us make your smile shine.
We look forward to helping you achieve your goals in oral health.
CONTACT US »

Teeth Whitening Kennebunk, York, Saco ME | (207) 999-7245