Dental Bridges in Kennebunk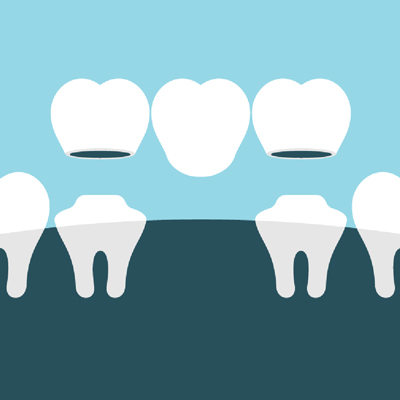 Are you missing one or more teeth? Do you feel self-conscious about it and are looking for a solution? A dental bridge might be the perfect option for you. At Starboard Dental, we offer these fixed dental restorations as a solution to replace one or more missing teeth.
What Is a Dental Bridge?
Bridges are prosthetic appliances usually made of porcelain or ceramic. These materials have a good texture, and provide excellent tooth-colored aesthetics. Oral functionality and appearance, along with better dental health, are important reasons for choosing this option.
It's a great option for people who are not good candidates for implants, or don't like that option. This type of
dental restoration
improves both the functionality and aesthetics of your smile.
Am I a Candidate?
If you're missing multiple teeth, you may be a candidate for this option. Our skilled dentist will evaluate your individual situation to determine if this is the right solution for you.
Crowns are used to anchor the bridge on both ends. The process of attaching a bridge involves an initial appointment to prep the teeth adjacent to the missing tooth/teeth. You will be scanned, and a temporary device is placed for about two to three weeks. A brief follow-up appointment is scheduled for the placement and securing of the permanent restoration.
Patients are advised to consider their bridge like any other tooth, and provide it the same level of care. Brushing twice a day and flossing regularly will help increase the longevity and health of the bridge, and decrease the need for replacement in the future. Our dental team will provide you with proper care instructions to ensure your restoration lasts for many years to come.
Restore Your Smile and Functionality
If you're interested in learning more about dental bridges and how they can improve your smile and functionality, schedule a consultation with us at Starboard Dental. Our experienced dental team is here to answer your questions and provide you with the best care options available. Don't wait any longer to restore your smile and confidence. Contact us today!
CONTACT US »

Dental Bridges Kennebunk, York, Saco ME | (207) 999-7245